TWENTY YEARS OF EXPERIENCE IN THE MANUFACTURE OF FLAGPOLES
The highest quality of products and services, reliability, punctuality and respect for every customer have been the principles behind our activities for more than 20 years. Due to our commitment to these principles, we can boast a list of regular satisfied customers, numerous recommendations of our company and increasingly more diverse offerings. We also stand out with our professional and dedicated team, who make sure that every assignment is done so as to fully meet your expectations.
BIGGEST FLAGPOLE MANUFACTURER IN POLAND
We are the biggest flagpole manufacturer in Poland. You can find our flagpoles both nationwide and all across Europe. While constantly evolving, our company draws on the latest technologies, which, whichmbined with good work organisation and the professionalism of our team, enables us to offer you a unique quality with fast turnarounds and attractive pricing.
Our flagpoles are reliable, durable, aesthetically pleasing and available at competitive prices!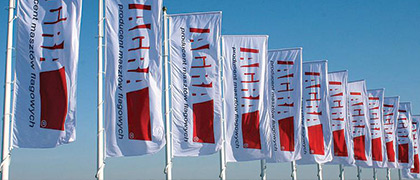 Flagpoles Agra
WE SERVE CUSTOMERS FROM ALL ACROSS POLAND
Flagpoles are a highly valued marketing and advertising solution:
they display the company's logo and colours
they boost prestige and build positive image
they increase recognisability
they allow large-format presentations
they match the surroundings in an aesthetically pleasing and natural way
they make the company's or organisation's location more visible
they are a relatively cheap and virtually all-year-round method of advertising
TOP QUALITY FLAGPOLES WITH A TEN-YEAR WARRANTY
Our flagpoles are manufactured from glass fibre and high-grade aluminium. All our flagpoles come with full technical documentation provided by the Building Research Institute (BRI Technical Recommendation: RT ITB-1066/2013). We warrant our flagpoles for ten years. We have our own road fleet and experienced staff. Our company's longevity is a guarantee of the reliability and integrity of our work. We also offer routine checks, full support, maintenance, cleaning and spare parts to extend the life of your flagpoles while keeping their original pleasing appearance.
WE GUARANTEE QUALITY
Our aim is to manufacture and sell high-quality products that meet customer requirements. We ensure the highest diligence at each stage of the works, which involve the design, manufacture and sale of aluminium and plastic flagpoles, the installation, scheduled inspections, maintenance and cleaning of flagpoles and the manufacture and sale of flags.
WE MANUFACTURE OUR FLAGPOLES FROM GLASS FIBRE, ALUMINIUM AND ECO ALUMINIUM
Depending on your needs, our flagpoles are available in six variants: